In the UAE, the licensing of medical professionals is regulated by different authorities according to which emirate you want to work in. In Dubai, the Dubai Health Authority (DHA) has authority over licensing in the Emirate of Dubai, except within the Dubai Healthcare City (DHCC) free zone. 
Dubai recruits healthcare professionals from all over the world and therefore has a rigorous system in place for verifying their identity, qualifications, skills and experience before issuing a licence to practice. 
For newcomers the process can seem daunting, but our experienced licensing team at Allocation Assist can help you navigate the process smoothly, saving you both time and stress.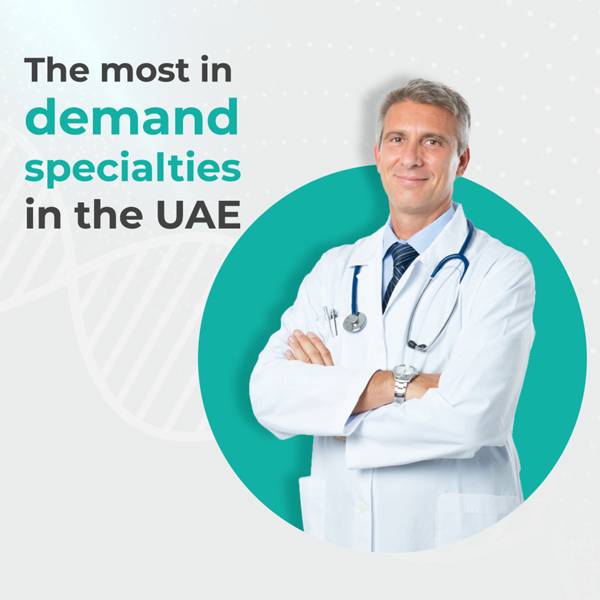 How long does it take to obtain a new licence?
First, it is necessary to obtain a registration with the Dubai Health Authority. This can be activated into a licence to practice by the health facility you wish to work for, once a job offer is secured. 
The process for obtaining DHA registration takes on average 3-6 months, and may take up to 9-12 months for candidates with qualifications from countries whose training programmes are not recognised by the DHA and therefore are required to take additional examinations.
Why should I obtain DHA registration before securing a job?
The Dubai healthcare recruitment market is dynamic and competitive. Hospitals looking to fill vacancies as soon as possible prefer candidates who have already proved their eligibility to work in Dubai by obtaining their registration.
How long is registration valid for?
DHA registration is valid for one year, however it is easy and straightforward to renew.
Steps to obtaining your DHA registration
1. Initial Application 
Applicants need to register on the DHA website before initiating the 'New License' process. Online forms must then be completed with comprehensive personal and professional details. 
2. Uploading and validation of documents 
The Unified Healthcare Professional Qualification Requirements (PQR) sets out the necessary requirements for licensure of healthcare professionals opting to practice in UAE in accordance with the federal laws and international best practices and standard. 
Documents which must be uploaded with the application include: 
● Educational certificates with transcript of records 
● Professional qualification certificates 
● Recent professional and employment experience 
● For surgical specialties: log book for the last 2 years with hospital stamp(s) and signature of the Medical Director or other authorized person 
● Valid license/registration from medical licensing body of country of recent employment 
● Valid good standing certificate issued by your country's licensing authority ● Medical fitness test (for applicants aged 65 and above) 
● Valid Passport Copy 
● Recent Photo 
In order to protect public safety, the DHA rigorously verifies the validity of all documents. A fee is payable with the initial application for processing of documents, which usually takes about 2 weeks, or longer if additional documents are requested. 
3. Primary Source Verification (PSV) 
Primary Source Verification is the act of verifying documents, such as educational certificates, work experience, health license and good standing certificates, directly from the original or primary source. This is done by a specialized international company called 'Dataflow' and usually takes 6-8 weeks. This process comes under the "Sheryan"
section of the DHA website and verification starts 48hrs after the payment of the associated fee. Once completed, you will receive the positive Dataflow report which must be linked to the DHA application. It can also be used for other UAE emirates and many other Gulf countries, and the verifications never expire.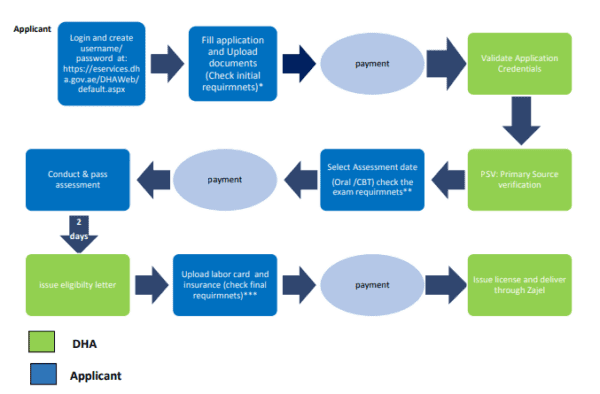 4. Verification Examinations 
Note: This step is not required for doctors who have completed their training in countries whose training programmes are recognised by the DHA including Australia, Ireland, New Zealand, USA, Canada, UK, Netherlands, France, Norway, Finland, Luxembourg, Belgium, Sweden and Germany.
Depending on the country where you completed your training, you may need to take either an oral examination or a prometric examination, which incur additional fees. 
An oral examination must be taken in Dubai and involves a panel of senior consultants from your field asking scenario-based clinical questions, to assess an applicants' knowledge and competency. 
A prometric examination is a computer based test (CBT) on your chosen speciality, usually consisting of 100 questions, with a pass mark of 60%. It can be taken at many testing centres globally. 
These tests may be booked while waiting for the primary source verification, however the time frame is based on specialist panel or prometric test centre availability. 
Three attempts are allowed to pass either of these exams, otherwise the applicant must submit a brand new application before being allowed to take it again. 
5. Registration request 
Once the previous steps have been completed, an application for registration can be submitted. The DHA usually responds within 1-2 weeks, and may ask for additional information when required. Your registration document will then be issued, which you will be able to show to potential employers. 
Once you have secured a job offer, you will need to submit additional documents and pay a fee to activate your licence. A licence will usually be issued in about two working days. 
More information can be found on the DHA website
Why use Allocation Assist's licensing service?
The licensing process is complex and exacting. Navigating it takes time, which busy doctors are short of. Allocation Assist's in-house dedicated and experienced licensing team understands the process inside out, as this is what they do every day. They have successfully helped hundreds of doctors obtain their licence.
Benefits of using our licensing service: 
Our team are experienced in handling even the most complex cases
We will guide you on the documents required and pre-check them to make sure they match the DHA requirements, avoiding time-consuming requests for further documentation which incur an extra fee 
Our team will create an application and upload all your documents
We closely monitor your application and provide you with weekly status updates
In case of any unforeseen delays or complications, we will update you immediately and work with you to resolve the issue 
Once the primary source verification is complete, we link the Dataflow report to your application 
We offer continuous support all the way through the process of registration, licensing and beyond 
In addition, with our unique insights into Dubai's healthcare recruitment market at Allocation Assist, we are able to:
Connect you with hospitals in Dubai that match your profile and skill set  
Offer support with CV writing and contract/salary negotiations 
Guide you and your family through the relocation process 
Provide you with insights on living and working in Dubai 
There is also the option to subscribe to Allocation Assist's premium recruitment platform, through which you can highlight your skills and experience to our network of highly reputed hospitals. 
Hear what some of our clients have to say:
"Great service. I couldn't recommend any more highly. Totally new to the requirements of Dubai and Emilie efficiently dealt with any questions I had. She was an email or a phone call away at any time of the day. The process of getting the license was as easy as sending her the documents and nothing more. When there was a problem Emilie had found a solution and replied within 24 hours. Thank you to you and your team for all of your help getting started here in Dubai. If you need a license in Dubai use Emilie and Allocation Assist."
Dr. Michael McLaughlin
Consultant Intensive/Anesthesiologist at American Hospital Dubai
"If you need a highly dedicated professional, just choose Allocation Assist/ Emilie Davies. Emilie is based in Dubai and has excellent information about the market. The DHA licensing was done perfectly. From the beginning until the end she was always helpful and understanding."
Dr. Kaplan
Consultant Gynaecologist from the Netherlands
"I was under the impression that the DHA application process was likely to be complex and lengthy, but with Emilie's support that has not been my experience. She has guided me through the application, often communicating directly with the DHA on my behalf and keeping me informed of my progress on a regular basis. Her communication is excellent, always responding to my questions promptly. I have already recommended Emilie@allocationassist.com to some colleagues and believe that any doctor looking to move to the UAE should make use of her skills and knowledge."
Dr. Nick Bennett
Consultant Plastic Surgeon at Mediclinic Welcare Hospital Dubai