The healthcare sector in Dubai is one of the most rapidly expanding in the region. In recent decades there have been strategic investments in both the public and private sectors, as well as public-private partnerships. This article will consider the factors driving the growth and the outlook for the coming years.
Establishing a World-Class Health System
The remarkable development in Dubai's healthcare system has been led by the government's vision to provide access to high quality medical services that are on par with international standards for all citizens and residents. Medical insurance is compulsory for all residents, with employers mandated to provide cover for their employees. 
The Dubai Clinical Services Capacity Plan (DCSCP) periodically studies demand and supply within both government and private sectors to identify existing and future gaps to enable evidence-based planning and policy. In 2015, a 10-year Dubai Clinical Services Capacity Plan included building three new medical colleges and five nursing schools, as well as strategies to attract and retain high-caliber medical and healthcare staff to fill gaps in certain healthcare specialties. 
The UAE government has invested heavily in healthcare. In 2019, approximately 69% of the country's total healthcare expenditure of USD 16 billion was government-funded. However, growing private-sector investment will outpace government spending, as private sector provision of healthcare in the U.A.E. is expanding.
Expansion in the Public Sector
In line with Dubai Health Authority's strategic planning, expansion projects, either planned or completed, at government hospitals include:
● Expansion of Dubai Hospital to include specialised outpatient clinics, lecture halls and workshops.
● Increased capacity at Latifa Women's Hospital with a new delivery suite.
● New skin bank for burn victims as part of a two-year expansion at Rashid Hospital.
● A new oncology hospital and research center in Dubai.
Expansion in the Private Sector
A 12 new private hospitals recently opened in Dubai, taking the total to 38 in 2020.
Existing providers are also undergoing expansion.
● Fakeeh University Hospital is a new world-class academic center in Dubai committed to excellence through research, education, and clinical care.
● King's College Hospital (KCH) recently opened two facilities in Dubai. Their new hospital in Dubai Hills works in direct collaboration with KCH's specialist services in London.
● Mediclinic Middle East is undergoing expansions and upgrades, including the new Mediclinic Parkview Hospital.
● Burjeel Hospital for Advanced Surgery, Dubai (part of the VPS Group) is planning to expand their facilities.
● American Hospital, part of the Mayo Clinic Care Network, is undergoing expansion.
● Neuro Spinal Hospital's new site in Dubai Science Park has four times the capacity, as well as the UAE's first robotic cyberknife, advanced diagnostic and radiosurgery facilities and robotic-assisted surgery.
Dubai is seeking to become a global leader in high-tech medical applications and digital services with investments including:
Technology for robotic-assisted surgery in many public and private hospitals.
Dubai 3D printing strategy: As of late 2020, DHA hospitals had successfully performed more than 50 surgeries using 3D printing techniques across several medical specialties such including oncology, cardiology and orthopedics
Medical Education and Research
There has been significant investment in medical research and expansion of medical education in Dubai.
The establishment of the new Dubai Academic Health Corporation is part of the broader strategy to advance health services in Dubai by integrating healthcare, medical education and scientific research. Other goals include attracting and retaining medical and research talent, enhancing Emiratisation in various healthcare fields and providing a supportive environment for scientific and clinical research, a statement said.
The new corporation will integrate DHA's Dubai Healthcare Corporation, including the hospitals and organisational units under it, the Mohammed Bin Rashid University of Medicine and Health Sciences, Dubai Dental Hospital, Al Jalila Foundation, Al Jalila Children's Specialty Hospital.
Continued Growth – The next five years
Dubai's health care sector is set to see further expansion in the years ahead.
Revenue generated within the UAE healthcare sector is forecast to grow at a compound annual growth rate (CAGR) of 7.5% from 2020 to reach AED 39.4 billion ($10.7 billion) in 2025, according to analysis by the Dubai Chamber of Commerce and Industry.
Overall healthcare spending was 4.27% of GDP in 2018. This is projected to rise to 4.6% by 2026, and 5.1% by 2029.
Factors behind this growth trend include increasing private provision, population growth, increasing prevalence of chronic lifestyle-related diseases such as diabetes or obesity and an increase in medical tourism.
Dubai Expo 2020, which will run from 1st October 2021 to 31st March 2022 (delayed by one year due to COVID-19) is expected to impose an additional transient demand on the health care system.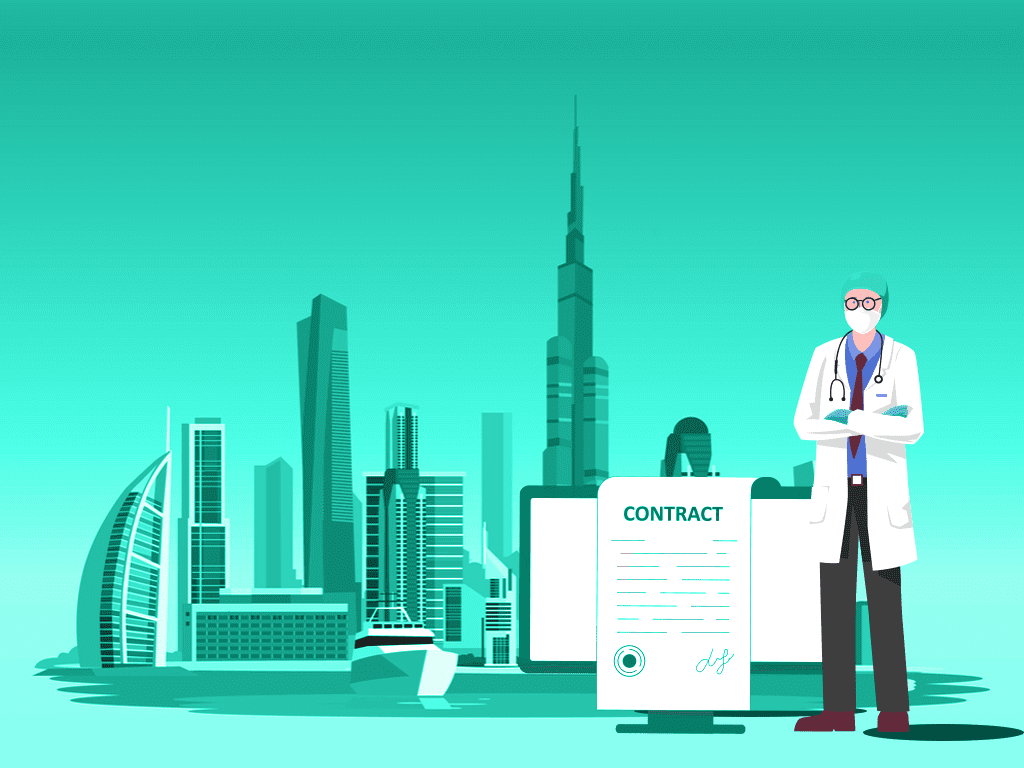 Opportunities for the future
Sustainable growth within Dubai's competitive healthcare sector is achievable by delivering data driven, patient-centric and result oriented healthcare with the aid of new technologies and innovations.
Opportunities exist in addressing current gaps in areas such as primary care and the management of chronic diseases, such as renal dialysis and diabetes. As the UAE recently announced a new retirement visa scheme, consideration should be given to the health needs of the older population.
As the government's Emiratisation strategy encourages more citizens to train and work in the healthcare sector, the UAE is still heavily reliant on expat healthcare professionals. The expansion of the 'Golden Visa' scheme to all resident doctors will benefit the UAE's health sector by encouraging medical professionals to remain in the Emirates long term.

Dubai is a fast-paced, highly competitive tourism & business hub and is not suited to everyone!
To find out more about working in this dynamic and growing healthcare sector, contact Allocation Assist