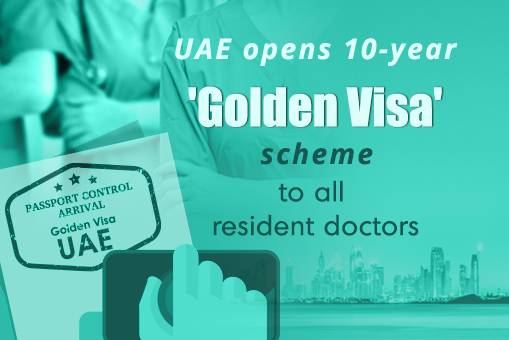 UAE opens 10-year 'Golden Visa' scheme to all resident doctors
In recognition of their dedication and contributions to the healthcare sector, and efforts to protect the emirate against Covid-19, all doctors licensed by the UAE health regulatory bodies can now apply for the golden visa until September 2022.
What is the golden visa scheme?
The golden visa long-term residency scheme was launched by Sheikh Mohammed bin Rashid, Vice President and Ruler of Dubai in 2019. Golden visas are granted to experts in various fields to recognize their key role in supporting the nation's progress. 
What are the benefits of the golden visa?
Most expat workers receive residence visas on the basis of their employment, which must be renewed every two or three years. 
Golden visas are issued for 10 years and easily renewable, as long as the recipient continues to meet the conditions of the visa. This long-term visa allows foreigners and their immediate family to work, live and study without needing an Emirati sponsor. 
The scheme will benefit the UAE's health sector by encouraging the best talent to remain in the Emirates long term. 
How are golden visas different from Emirati citizenship?
Emirati citizenship confers naturalization and an Emirati passport. Citizenship can only be granted to individuals nominated by government or royal court officials. People eligible for nomination include investors and highly skilled professionals who offer specialized talents or expertise to the country. 
How can doctors apply for the Golden Visa?
All doctors licensed by the country's health regulatory bodies can apply for the golden visa from now until September 2022 via the Federal Authority for Identity and Citizenship (ICA) website smartservices.ica.gov.ae. Doctors licensed in Dubai can apply through smart.gdrfad.gov.ae.

Dubai is a fast-paced, highly competitive tourism & business hub and is not suited to everyone!
To find out more about working in this dynamic and growing healthcare sector, contact Allocation Assist