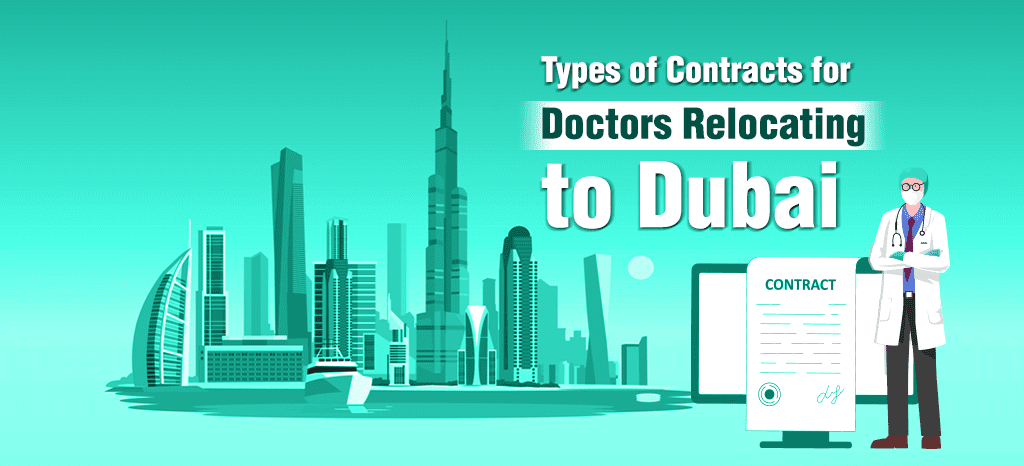 Are you a doctor considering relocating to work in Dubai?
Want to navigate the process of seeking the right position and negotiating contracts?
Do you have questions about the types of contracts available?
The Health System in Dubai
Dubai's healthcare infrastructure is well-developed with world-class public and private facilities. There is increasing innovative medical research involving public-private partnerships.
Most healthcare provision is insurance based, as health insurance cover is mandatory for all residents, usually provided by employers.
UAE nationals receive free or highly subsidised care at government-funded hospitals and local healthcare centres. Expats may access the public healthcare system by purchasing a health card.
Due to the high proportion of expatriate residents, the large private sector continues to grow and there is an increasing potential for medical tourism.
The number of medical schools in the UAE is growing with the aim of increasing the numbers of locally trained healthcare professionals. Currently, there is still a high dependency on foreign-trained doctors.
Types of Contracts for Doctors Relocating to Dubai
There are five main types of contracts under which doctors may be employed. The structure of salary and benefits vary for each:
Full time contract with fixed hours, salary and allowances.
These types of contracts are often offered by Government or Semi- Government funded institutions. There are no performance based incentives, however there will be a lucrative salary and package with allowances for accommodation and children's education as well as yearly flights to visit your home country.
Full time contract with a basic salary and extra performance based or revenue sharing incentive on top.
A lucrative basic salary will be given with extra performance based or revenue sharing incentives added on top. These contracts are usually offered by most large private hospitals and clinics and don't often include allowances for children's education or housing. Some employers might offer a lower basic with higher revenue share model on top depending on their business model.
Complete revenue share model
Highly driven Doctors who are well established and have successfully built a strong patient base and referral network in the market might choose to work on a complete revenue share model with no basic salary at all as they tend to earn more with this arrangement.
Community Based Doctor (CBD) – working in multiple hospitals or clinics.
By law, to practice in Dubai the physician must have at least 1 full time license under a facility (Hospital or Clinic), then they are allowed to have up to 2 – 3 additional part time licenses with other hospitals / clinics as long as the primary employer who is providing the full time license gives the physician permission to do so.
Visiting contracts
Physicians who are of highly demanded specialties, famous / extremely well accomplished,  or who are offering a very niched skillset can sometimes secure work on a visiting contract at a relevant / suitable hospital/ clinic that has the appropriate facilities. The arrangements regarding the flights, hotel stay and remuneration vary.
All facilities for all contracts usually provide the Doctors with health insurance, malpractice insurance and cover the licensing and visa fees.
Employers cover cost of visa processing
Medical indemnity and health insurance for employees
30 days paid annual leave
One month salary bonus for each year worked 
Return flight at the end of employment term
These benefits are not usually available for solo practitioners who are not classed as employees.
There is no income tax in the UAE, so you get to take home your full salary. 
Health insurance for dependant family members
Accommodation allowance
Children's education allowance
Yearly return flight tickets home
Considerations for contract negotiations
Salaries and benefits vary according to your qualifications, specialty, experience and country of training and licensing.
Doctors who have completed their training in the USA, UK, Canada, New Zealand, Australia and South Africa are sought after, especially for in-demand areas such as complex surgical specialties, maternity, pediatrics, elderly care, fertility and diabetes care.
Offering a new service, or one for which patients previously had to travel abroad for treatment, will give a competitive advantage.
What to expect when relocating
It can take time to build up a patient base, especially when establishing a new service. Marketing may be required to create awareness of new specialties available.
Patience, a long-term view and positive attitude are required in the early stages.
For doctors who are highly motivated and seeking to advance their careers while contributing to an exciting, growing healthcare sector, Dubai is a great place to be.